Master of Business Administration (MBA): MBA is the best choice among youngsters in present days. The students who have the bachelor degree in any stream can go for this course. But first of all, when the word comes to hear. Then there will be many questions come to the mind of the students. Some commonly asked questions are that what is the salary? what is the future scope? where to get admission? and many more question rises in the minds. So here we are to answer all the questions regarding MBA. Check Bachelor of Commerce (B.Com.) Course.
Master of Business Administration (MBA)
MBA is the most professional course. The style and skills of an MBA student will be different from others. The personality traits will be seen in this profession. Here we will discuss the complete details for MBA. There are many streams available in MBA course. Students can go as per their interest. Check Bachelor of Science (B.Sc) Course Details.
Human Resource (HR) Management.
Finance Management.
MBA in  Operations.
Infrastructure and Real Estate Management.
Oil and Gas Management.
Marketing.
Tea Management.
Area Management.
Energy Management.
Entrepreneurship Management.
Telecom Management.
Skills Required For an MBA Graduate
Leadership.
Teamwork.
Interpersonal and communication skills.
Problem-solving (troubleshooting) and analytical skills.
Initiative.
Global orientation.
Planning Strategies.
Adaptability to change.
Strategic thinking and planning abilities.
How to Get Admission in MBA?
To get admission in MBA there will be an entrance exam after graduation. There is national level and university level exams are there in the country. Some main entrance exams are:
CAT (Common Aptitude Test).
XAT (Xavier Aptitude Test).
The above-given entrance exams are just a little bit. But there will be an entrance exam in all the universities to get admission in MBA course.
Major Institutes Offering MBA Course
The major institutes for MBA (Master of Business Administration) courses in India are IIMs of India. There is a total of twenty IIMs are there throughout the country. However, there are many other business schools are also available who provide this specific course. Ther are many universities who offer this course in the campus school only. Check Career As Air Hostess.
IIM Institutes (All over India). Total twenty institutes in the country.
IIM Ahmedabad,
IIM Rohtak,
IIM Bangalore,
IIM Trichy,
IIM Calcutta,
IIM Ranchi,
IIM Lucknow,
IIM Udaipur.
IIM Indore,
XLRI, MDI Gurgaon, IIFT, FMS-Delhi,
Narsee Monjee Institute of Management Studies,
XLRI Jamshedpur.
Symbiosis Institute.
MDI Gurgaon.
SP Jain Institute of Management & Research,
S. P. Jain Iinstutes Oo Mgmt. & Research (SPJIMR) Mumbai.
IMT Ghaziabad,
IMI NEW DELHI.
TAPMI Manipal.
GOA Institute of Mgmt. (GIM) GOA.
Placement
Placement process will be held in every year in many business schools. There will be many companies who prefered campus drive for placement or to offer the job. But the companies will choose a better institute for the placement. Because all the recruiters want best employees. So they choose a good institute. The recruiters will organise a complete selection procedure. Students have to crack the selection procedure. Ther process may include>
Written Test.
Group Discussion.
Personality Development rounds.
Personal Interview.
Final Selection Round.
Highest Paid Salary Package for an MBA Fresher
When IIMs are discussed on this topic then they lead in this category. The below-given table is showing the first batch of IIM Rohtak with highest and lowest salary packages. However, there are other institutes in the list of top salary packages.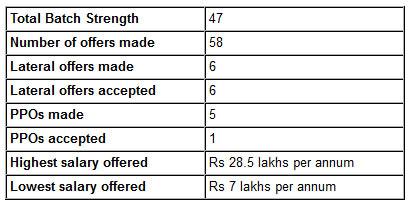 Salary ranges for IIM- Ahmedabad Alumni:
Ranges by popular Job Designation:
| | |
| --- | --- |
| Designation | Salary Range |
| Project Manager, IT | INR 5.9 lakh to INR 24 lakh |
| Business Process | INR 3.04 lakh to INR 18 lakh |
| Mgmt. Consultant | INR 8 lakh to INR 21 lakh |
| Chief Executive Officer (CEO) | INR 20 lakh to INR 81 lakh |
| Marketing Manager | INR 4.6 lakh to INR 18.5 lakh |
The range of Diploma Programs:
| | |
| --- | --- |
| Diploma Programme | Salary Range |
| MBA | INR 6.2 lakh to INR 39 lakh |
| Bachelor's Degree | INR 5.8 lakh to INR 29 lakh |
| MBA in Finance | INR 7.2 lakh to INR 3.9 lakh |
| MBA in Marketing/Mgmt. | INR 7.5 lakh to INR 24 lakh |
| MBA General | INR 4.6 lakh to INR 18.5 lakh |
| Doctorate (PhD) | INR 13.1 lakh to INR 40 lakh |
| Post Graduate Diploma Finance | INR 6 lakh to INR 49 lakh |
Ranges by Popular Companies:
| | |
| --- | --- |
| Companies | Salary Range |
| HSBC | INR 9.4 lakh to INR 39 lakh |
| ICICI Bank | INR 8.1 lakh to INR 13 lakh |
| IBM Corporation | INR 5.3 lakh to INR 12 lakh |
| PwC | INR 12 lakh to INR 16 lakh |
| IBM Global Services | INR 5 lakh to INR 14.5 lakh |
| Infosys Limited | INR 8.1 lakh to INR 49 lakh |
| Accenture | INR 6.6 lakh to INR 15 lakh |
| HCL Technologies | INR 11 lakh to INR 29 lakh |
| Wipro Technologies. | INR 9.3 lakh to INR 14.1 lakh |
| Cognizant Technology Solutions Corp. | INR 9.2 lakh to INR 15 lakh |
Career Scope and Remuneration
Master of Business Administration is one of the most sought programs in comparison of other. This is because the job opportunity for an MBA graduate is so high. MBA graduate gets handsome remuneration and top designations like the manager, executive etc.
In the field of management, one can prove himself/ herself at every step. You just need to be innovative and have to become a highly valuable employee of the organization you are working. The organization will not let you feel the financial lack. As you are the person, who is responsible for the huge profit made by the organization the company will also not shy away from paying you high remuneration. Check Hotel Management and Catering Course.
A fresher can earn starting from 25 K to 35 K per month. With a relevant experience and skills, the salary may reach up to 1 lac per month.
An MBA graduate can get the following managerial role in a business organization:
International Business Manager;
Brand Manager;
Account Manager;
Marketing Executive;
Business Technical Consultant;
Business Development Executive;
Marketing Manager;
Management Consultant.
Top Recruiters
Almost all the companies including schools, colleges, hotels, organisations, government companies and private companies require an MBA graduate. Financial, insurance, share market, banking, loan providers also recruit MBA graduates for their company. Check B.Com Course (Career Scope). Some Companies are
Cognizant.
ICICI Bank, HDFC Bank and other private banks.
Infosys
Share market Companies like sharekhan, TATA consultancy, ITC limited.
Wipro.
SBI.
ONGC.
Bajaj.
Adani group.
Accenture.
KPMG.
TCS.
Amazon.
IBM.